Place de la monnaie 6
1000 Bruxelles
Belgium
Scientists have been trying to explore the oceans in depth for centuries. But it is not that easy. After all, studying the vastness/dimensions of the ocean requires time, sophisticated equipment and a lot of funding. Measuring instruments have to withstand the immense pressure at great depths.The depths of our oceans remain full of mystery. We know more about the surface of the moon than the seabed.
Industry is deeply intertwined with scientific research either in the form of money or in the training of researchers. Among the benefits, it is mentioned that innovative research emerges from the scientist's relationship with industry. Meanwhile representatives of various scientific disciplines from around the world, express their concerns the recently approved exploration contracts for research into possible deep-sea mining. About a million square kilometres of the international seabed has been outsourced to individual governments and companies. According to the scientists, there is a difference between scientific research to understand how deep-sea ecosystems function and support vital processes and the activities carried out under exploration contracts of the International Seabed Authority – ISA. The former serves to learn and discover, improving scientific knowledge about the largest ecosystem on Earth, while the second serves to assess the economic potential for extraction.
Does the deep-sea mining industry create confusion about the objectives of basic scientific research? Will the industry's commercial interests drive or influence scientific research at their test sites? What kind of data might eventually be kept confidential i.e. private? In case of disagreements between researchers and sponsors, does the scientist retain his right to publish? Is there room in this kind of research for a postcolonial way of thinking, indigenous knowledge and a more holistic perspective?
The panel talk will take place ont the 28th of March from 6.00 to 8.30 pm at  Muntpunt, Munt 6, 1000 Brussel. Possibility to join online.
Panel
Ann Vanreusel (head of the research group Marine Biology UGent)
Sarah Vanden Eede (Oceans Policy Officer WWF)
Sandor Mulsow (Former director of the Office of Environmental Management and Mineral Resources ISA).
With a video contribution by Alanna Smith (Director Te Ipukarea Society Cook Islands) and a performance intervention by Greet Brauwers and Raf Custers.
This event is organised in collaboration with A Seat for the Sea, weKONEKT.brussels and the interuniversity master programme Oceans & Lakes of UGhent-VUB-UAntwerp.
Aichi targets
19. Knowledge improved, shared and applied
19.1. Knowledge, the science base and technologies relating to biodiversity, its values, functioning, status and trends, and the consequences of its loss, are improved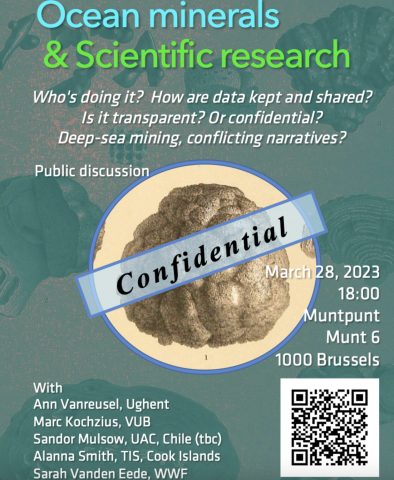 Belgium