The global wildlife trade is a significant contributor to the decline of global biodiversity. With the issue of protecting nature high on the political agenda in the framework of the EU Biodiversity Strategy, it is an opportune moment to discuss the impact of the exotic pet trade on biodiversity decline and to consider the need for supplementary legislation to close risky loopholes in the existing EU wildlife trade regulations.
During this event, which is hosted by MEP Martin Hojsík on behalf of the European Parliament's cross-party MEPs for Wildlife group, Pro Wildlife's recently published report Stolen Wildlife will be presented. This report reveals how species are illegally harvested in and exported from their country of origin and yet traded legally, primarily within the exotic pet trade, in the EU. The report will form the basis for a panel discussion between wildlife trade experts and policymakers.
This MEPs for Wildlife event is organised in collaboration with animal protection NGOs Pro Wildlife and Humane Society International/Europe.
Background
At present, the Convention on International Trade in Endangered Species of Wild Fauna and Flora (CITES) does not cover all illegal wildlife trade. Many threatened species are protected from exploitation in their home countries but are not protected from being internationally traded, either through domestic legislation in the destination country or by CITES. In addition, many demand-focused import countries have no protections for non-native species.
As a result, wildlife traffickers are able to easily smuggle these animals into legal (or illegal) international trade flows, and once out of their countries of origin, little can be done to stop the trade in these species. To address this devastating practice, it is imperative that the EU commits to adopting legislation that prohibits the importation, transhipment, purchase, and sale of wildlife taken illegally in the country of harvest/origin.
Programme
Introductory speech, Martin Hojsík MEP (Renew Europe/Slovakia)
Short presentations
Stolen Wildlife - Dr Sandra Altherr, Pro Wildlife
Closing the gaps in the international legal framework - John E Scanlon, Former CITES Secretary General & Chair, Global Initiative to End Wildlife Trade
Panel discussion with additional panellists
Jorge Rodriguez-Romero, DG Environment, European Commission
Dr. Mark Auliya, Herpetologist , Helmholtz Institute, Germany
Bruce Weissgold, independent wildlife consultant; former US CITES authority
Maria Elena Sanchez, Teyeliz, Mexico
Moderator: Jo Swabe (HSI)
MEP closing remarks
Aichi targets
1.2. People are aware of the steps they can take to conserve and sustainably use biodiversity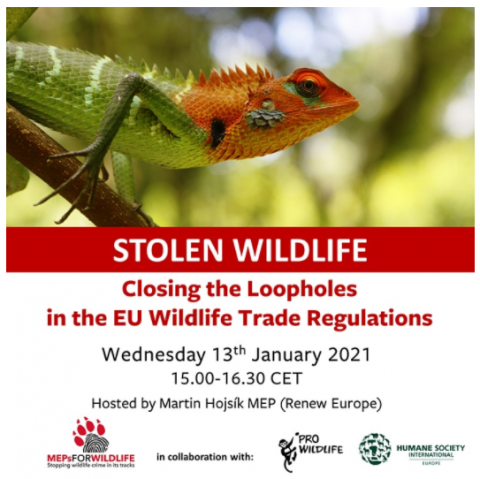 Belgium