The Botanical Garden Meise organises a day activity with a scientific and a family part, in other words partners and children (young and old) are also welcome.
For the scientific part, a number of lectures about the thematic of coffee are planned. Strong coffee! is also the theme of the exhibition that is currently running in the Botanical Garden, an exhibition that we can also visit.
The scientific part (morning) will include lectures by 
Piet Stoffelen, Botanical Garden Meise
Coffee Genetic Resource in the DR Congo: A Survey of Ongoing Projects and Research 
Filip Vandelook, Meise Botanical Garden
Research on Wild Populations & Genetic Diversity of Coffea canephora
Robrecht Bollen, KU Leuven
Evaluation of Robusta Coffee in the Yangambi Collection
Olga Rojo Paveda & Andrea Montis, ULB
Chemical Profiling of Coffee Species
Parallel to the scientific lectures, partners (and children) will be able to take a separate guided tour, the "Historical Walk", in the Botanical Garden (with bilingual guide NL-FR). In the Donjon of the Castle, there is also the exhibition "Treasures on glass", prints of glass negatives of the former "Botanique" in Brussels (nineteenth century until the 1930s), exhibition on the occasion of the 225th anniversary of the Botanical Garden.
Lunch will be taken (both groups together) in the orangery. The afternoon programme is joint. It starts with a guided visit to the Houtlab, followed by a walk through the Culinary Experience Garden to the Plant Palace (biomes). After the guided tour of the Plant Palace, one can visit the coffee bar and the coffee exhibition individually when leaving.
As mentioned, it will be a day programme. The scientific programme starts at 10.00 a.m. in the Brabant Room of Bouchout Castle, located a quarter of an hour from the entrance. You are expected from 09.30 to 09.45 a.m. sharp at the entrance (given the walking distance between the parking lot and the Castle). Lunch can be enjoyed together on site, for members of the academy the KAOW will bear the costs.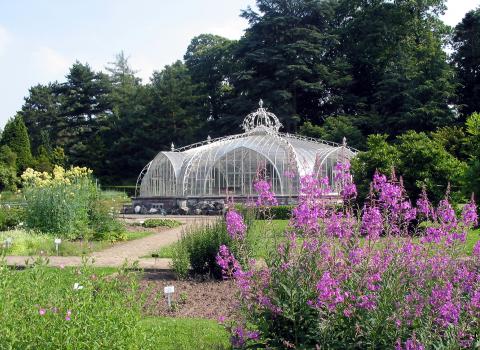 Belgium