While the formal meetings of SBSTTA-24 and SBI-3 are delayed because of the ongoing pandemic, virtual informal sessions of these meeting are being convened as follows:
 
Informal session in preparation for SBI-3: 8-12 March and 14 March 2021. 
All sessions will last three hours per day and will be held from 13:00 to 16:00 CET. Coverage and reporting will be made available here.

The virtual informal sessions are intended to help to maintain momentum in the preparation for the fifteenth meeting of the Conference of the Parties (COP 15) and related meetings, including important work related to the development of the post-2020 global biodiversity framework. The sessions will facilitate preparations for the subsequent formal meetings of the two bodies. The sessions will provide opportunities for statements by Parties and observers on the issues on the agenda of SBSTTA-24 and SBI-3. They will also provide an opportunity for participants to further familiarize themselves with the practice of virtual meetings and interactions. However, no decisions or formal outcomes or conference room papers will be prepared at the informal sessions. 
Click below to view the scenario notes for the informal session: 
Third meeting of the Subsidiary Body on Implementation 
In Decision XII/26, the Conference of the Parties to the Convention on Biological Diversity established the Subsidiary Body on Implementation (SBI) to replace the Ad Hoc Open-ended Working Group on Review of Implementation of the Convention, with the terms of reference contained in the annex to decision XII/26. The first meeting of the SBI was held on 2-6 May 2016 in Montreal, Canada. The four functions and core areas of work of SBI consist of: (a) review of progress in implementation; (b) strategic actions to enhance implementation; (c) strengthening means of implementation; and (d) operations of the convention and the Protocols. The Bureau of the Conference of the Parties serves as the Bureau of the Subsidiary Body on Implementation. The modus operandi on the organization and operation of SBI was approved by  the Conference of the Parties at its thirteenth meeting.

SBI-3 will consider the following agenda items:
Assessment and review of the effectiveness of the Cartagena Protocol on Biosafety
Post-2020 global biodiversity framework
Resource mobilization and the financial mechanism
Capacity-building, technical and scientific cooperation, technology transfer, knowledge management, and communication
Cooperation with other conventions, international organizations and initiatives
Mechanisms for reporting, assessment and review of implementation
Review of the effectiveness of the processes under the Convention and its protocols
Mainstreaming of biodiversity within and across sectors and other strategic actions to enhance implementation
Specialized international access and benefit-sharing instruments in the context of Article 4, paragraph 4, of the Nagoya Protocol
Global multilateral benefit-sharing mechanism (Article 10 of the Nagoya Protocol
Administrative and budgetary matters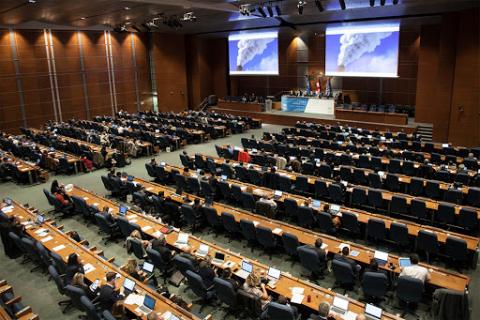 Belgium